Transparent governance ensures that we manage and supervise our operations in a responsible way, contributing to a fair, inclusive business environment.
Holding high ethical standards is the right thing to do and bolsters the confidence, trust and wellbeing of the population at large, in addition to that of our customers and other stakeholders.
Our best business practices are aligned with international standards, local laws and Givaudan internal regulations, providing enhanced value to customers, shareholders and all of our stakeholders. Our compensation practices are aligned with our principles of integrity, fairness and transparency.
Assuring value creation through good corporate governance
We pride ourselves in transparent governance, which ensures we manage and supervise our operations in a responsible way. Our structures and processes for the direction and control of our Company allow for a continued focus on value creation for all our stakeholders. 
The Board of Directors is responsible for the ultimate direction, strategic supervision and control of Givaudan and its management. Each Board member has extensive leadership experience and in-depth knowledge of relevant areas of expertise for Givaudan and contributes to the Board's competencies at the level of the full Board and in the Board's four committees: Audit, Compensation, Nomination & Governance, and Innovation. 
The Executive Committee (EC), led by the Chief Executive Officer (CEO), is responsible for all areas of operational management that the Board has delegated to it. The CEO is appointed by the Board and has the task of achieving the strategic objectives of the Company and determining operational priorities. The CEO also leads, supervises and coordinates the EC, which meets monthly to discuss Company business, strategy and sustainability. 
Our Board of Directors ensures the Company operates according to Swiss and international business standards and practices.
Robust standards, policies and management systems provide a framework for addressing risks and opportunities through operations and allow us to measure our performance against our targets and meet our commitments to stakeholders. Risks including those related to Environmental, Social and Governance (ESG) and sustainability issues are assessed as part of the Company's Enterprise Risk Management process.
Corporate governance in numbers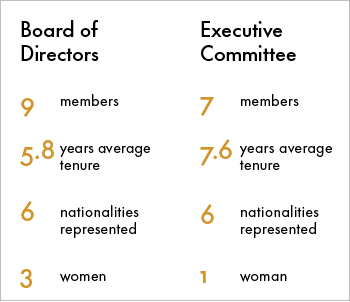 Click here to read more about governance.